This page can only be viewed on a mobile device.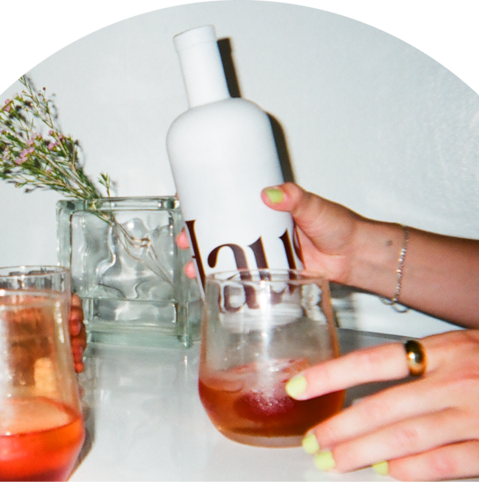 3oz Strawberry Basil

Serve on the rocks
3oz Citrus Flower
2oz Sparkling Water
1 Sliced Strawberry

Serve on the rocks, topped with strawberry slices.
3oz Strawberry Basil Squeeze Fresh Lemon Splash Ginger Ale Sliced strawberry, cucumber, and mint sprig, for garnish

Stir all ingredients over ice in a Collins glass, and top with garnishes.
1 Bottle Strawberry Basil 2 Cups Sparkling Water 4oz Vodka 5-6 Sliced Strawberries 2-3 Sprigs of basil, leaves torn
Add torn basil and sliced strawberries to a pitcher. Add ice, remaining ingredients, and stir to mix.
A flavorful spirit that's lighter in alcohol (less boozy than whiskey, stronger than wine), so you can sip all evening.
We make Haus with ingredients from farms, not factories, don't add artificial stuff, and tell you what's inside.
Our team makes Haus in Sonoma County using fruits, herbs, and botanicals from trusted purveyors around the world.
Antiquarian (aka antiques collector)
"It's pleasantly subtle and smooth with depth. Not overly sweet, with a low-burning strawberry flavor.
Strawberry Basil brings to mind long days in late August, during that perfect period between the end of summer and start of fall. Slicing open a watermelon, picnics in the backyard, dripping popsicles—all the things that make summer special and delicious."
Strawberry Basil: Amount Per Ounce
Calories
39.6
Fat
0g
Protein
<1g
Sugars
2.1g
Carbohydrates
2.67g
Sodium
1.2mg
Strawberry
There's nothing like the taste of a perfectly ripe strawberry. Ours are grown in the mountains of Oregon and bring a candy-like flavor and aroma to every sip.
Jasmine Pearl Tea
Hand picked from old growth tea trees in Anhui, China, our Emperor's Jasmine Pearl Tea is truly unique. Dried green tea pearls are scented with jasmine blooms a total of 11 times to ensure that every pearl has absorbed the delicate jasmine scent. This tea leaves behind a smooth, honey-like taste.
Pure Strawberry Juice
A blend of fresh strawberry varieties helps to enhance the flavor's sweet, fruity profile.
Berry Meritage Tea
This tea is a fruit-forward blend of hibiscus, blackcurrant, redcurrant, rosehip, and grape raisin. Made from the finest mountain berries, it's the perfect balance of sweet, tart, and smooth.
Woodruff
This herbaceous perennial is known for its vanilla-like aroma. The dried leaves and flowers, which come from Croatia, add a layer of earthy sweetness to our blend while complimenting the complex basil flavor.
Krishna Holy Basil
Cultivated in India, Krishna holy basil is known for its crisp, peppery taste. Most often enjoyed as tulsi tea, this aromatic herb has been used for centuries in Ayurvedic medicine. It adds a fresh, herbal note to every sip.
Sweet Basil
The most common of the basil varieties, sweet basil is best known for its culinary uses, especially in Italian cuisine. Sourced in Egypt, it is equal parts sweet, herbaceous, and savory.
Vana Holy Basil
Grown in the Himalayas and the plains of India, this wild basil is another important component of tulsi tea. Known for its fragrance, it brings a clove-like aroma and fresh sweetness to our blend.
Fresh Thai Basil
Consider this sweet basil's spicier sibling. Aromatic and peppery with a hint of mint flavor, ours is grown in California and Mexico.
Genovese Basil
A variety of sweet basil with large, dark green leaves, this aromatic herb gives this flavor a layer of minty freshness.
Litchi Noir Tea
Grown high in the mountains in Anhui, China, this black tea is made with rose petals and fresh lychee fruit. It gives the blend a bright, floral sweetness.
Pure Organic Cane Sugar
Unlike those European liqueurs, we don't use too much — and that's how we like it. With more impurities than refined sugar for a more natural taste, and a slight molasses aroma.
Grape Brandy
Grape brandy, distilled in Sonoma County, extracts all the herbs and botanicals you taste.
Chardonnay Grapes
The foundation of every bottle. We started with grapes from the Grist Vineyard in Sonoma County, and now we source from other farmers we trust. This isn't like your mom's chardonnay — it's unoaked for a clean, fruity palate.