This page can only be viewed on a mobile device.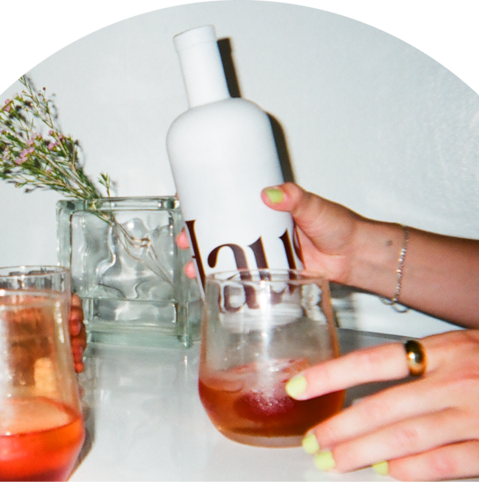 3oz Strawberry Basil

Serve on the rocks
3oz Strawberry Basil
2oz Sparkling Water
1 Sliced Strawberry

Serve on the rocks, topped with strawberry slices.
3oz Strawberry Basil Squeeze Fresh Lemon Splash Ginger Ale Sliced strawberry, cucumber, and mint sprig, for garnish

Stir all ingredients over ice in a Collins glass, and top with garnishes.
1 Bottle Strawberry Basil 2 Cups Sparkling Water 4oz Vodka 5-6 Sliced Strawberries 2-3 Sprigs of basil, leaves torn
Add torn basil and sliced strawberries to a pitcher. Add ice, remaining ingredients, and stir to mix.
A curated playlist to match the Strawberry Basil vibe.
A flavorful spirit that's lighter in alcohol (less boozy than whiskey, stronger than wine), so you can sip all evening.
We make Haus with ingredients from farms, not factories, don't add artificial stuff, and tell you what's inside.
Our team makes Haus in Sonoma County using fruits, herbs, and botanicals from trusted purveyors around the world.
Antiquarian (aka antiques collector) 
"It's pleasantly subtle and smooth with depth. Not overly sweet, with a low-burning strawberry flavor. 
Strawberry Basil brings to mind long days in late August, during that perfect period between the end of summer and start of fall. Slicing open a watermelon, picnics in the backyard, dripping popsicles—all the things that make summer special and delicious."
{% assign product = all_products[page.handle] %} {% if product.metafields.nutrition_modal.nutrition_body != blank %} {% assign nutrition_body = product.metafields.nutrition_modal.nutrition_body %} {% else %} {% assign nutrition_body = false %} {% endif %} {% if product.metafields.nutrition_modal.ingredients_body != blank %} {% assign ingredients_body = product.metafields.nutrition_modal.ingredients_body %} {% else %} {% assign ingredients_body = false %} {% endif %}
{% render 'text-hero' with title: "Nutritional Facts", copy: nutrition_body, no_border: true %}

{% for table in product.metafields.nutrition.title %}
{{ product.metafields.nutrition.title[forloop.index0] }}: Amount Per Ounce
{% if product.metafields.nutrition.calories[forloop.index0] != blank %}
Calories
{{ product.metafields.nutrition.calories[forloop.index0] }}
{% endif %} {% if product.metafields.nutrition.fat[forloop.index0] != blank %}
Fat
{{ product.metafields.nutrition.fat[forloop.index0] }}
{% endif %} {% if product.metafields.nutrition.protein[forloop.index0] != blank %}
Protein
{{ product.metafields.nutrition.protein[forloop.index0] }}
{% endif %} {% if product.metafields.nutrition.sugars[forloop.index0] != blank %}
Sugars
{{ product.metafields.nutrition.sugars[forloop.index0] }}
{% endif %} {% if product.metafields.nutrition.carbohydrates[forloop.index0] != blank %}
Carbohydrates
{{ product.metafields.nutrition.carbohydrates[forloop.index0] }}
{% endif %} {% if product.metafields.nutrition.sodium[forloop.index0] != blank %}
Sodium
{{ product.metafields.nutrition.sodium[forloop.index0] }}
{% endif %}
{% endfor %}
{% render 'text-hero' with title: "Ingredients", copy: ingredients_body, no_border: true %}

{% for article_posts in product.metafields.Ingredients.ingredients %}

{% if product.metafields.Ingredients.title[forloop.index0] %}
{{ product.metafields.Ingredients.title[forloop.index0] }}
{% endif %} {% assign ingredient_articles = article_posts | split: "|" %}
{% for ingredient in ingredient_articles %}
{% assign article = ingredient | remove: '["' | remove: '"]' %} {% render 'ingredient-block' with title: articles[article].title, copy: articles[article].content %}
{% endfor %}
{% endfor %}