This page can only be viewed on a mobile device.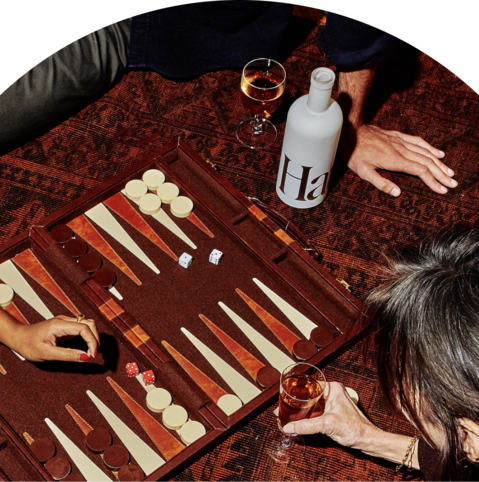 2oz Spiced Cherry
Serve on the rocks
3oz Spiced Cherry
2oz Tonic Water
Pour over ice in a Collins glass, garnish with a lemon twist.
3oz Spiced Cherry
Splash Rye Whiskey
Stir with ice until chilled and strain into a martini glass or coup. Garnish with a Luxardo cherry.
3oz Spiced Cherry
Splash Mezcal
Splash Yellow Chartreuse

Mix in a cocktail shaker with ice, strain into a martini glass or coup. Garnish with a lime twist.
A flavorful spirit that's lighter in alcohol (less boozy than whiskey, stronger than wine), so you can sip all evening.
We make Haus with ingredients from farms, not factories, don't add artificial stuff, and tell you what's inside.
Our team makes Haus in Sonoma County using fruits, herbs, and botanicals from trusted purveyors around the world.
Art Director, Stylist and owner of Fort Greene Bar in Denver, CO
"I love it poured simply over some ice, it reminds me of a Manhattan.
Sipping on the rich and spicy goodness of Spiced Cherry makes me want to get up and do a lil dance… in which case I do, glass in hand."
Spiced Cherry: Amount Per Ounce
Calories
35.5
Fat
0g
Protein
<1g
Sugars
1.6g
Carbohydrates
2.3g
Sodium
1mg
Dried Cherry
The deep cherry flavor comes from a mix of sweet and sour cherries, hand picked from heirloom Michigan cherry trees.
Cherry Bark
Foraged in the mountains of Oregon, we use wild cherry bark for its sweet meets bitter quality.
Cocoa Nibs
Sourced from the famous Kokoa Kamili cooperative in Tanzania, cocoa nibs add a bright, fruity note.
Anise Seed
With a subtle black licorice flavor, organic anise seed adds a sweet meets nutty layer to every bottle. Our anise seed is grown in pristine fields in Cairo, Egypt.
Coriander Seed
Picked at its peak from India's Andhra Pradesh mountains, fragrant coriander seed is used to add depth and complexity.
Ginger Tea
Aromatic and spicy, this ginger is grown in the mountains of Guatemala and carefully sun dried to preserve the natural terroir. It adds complexity and a subtle bite.
Orange Peel
We add orange peel for both its flavor and its aromatic qualities. It has the perfect balance of sweet and bitter. Ours come from a 40-year old organic orchard in Florida.
Tellicherry Pepper
Grown in Kerala, India, Tellicherry pepper is considered to be one of the finest peppers in the world. It adds a sweet spice to every sip.
Orris Root
A fragrant botanical, orris root adds a floral aroma and touch of bitterness. We source ours from Florence, Italy, where it has been grown for centuries.
Gentian Root
Sourced from the peaks of the Swiss Alps, this root is a classic ingredient in aromatic bitters and liqueurs, known for having a strong, bitter flavor.
Pure Organic Cane Sugar
Unlike those European liqueurs, we don't use too much — and that's how we like it. With more impurities than refined sugar for a more natural taste, and a slight molasses aroma.
Grape Brandy
Grape brandy, distilled in Sonoma County, extracts all the herbs and botanicals you taste.
Chardonnay Grapes
The foundation of every bottle. We started with grapes from the Grist Vineyard in Sonoma County, and now we source from other farmers we trust. This isn't like your mom's chardonnay — it's unoaked for a clean, fruity palate.