This page can only be viewed on a mobile device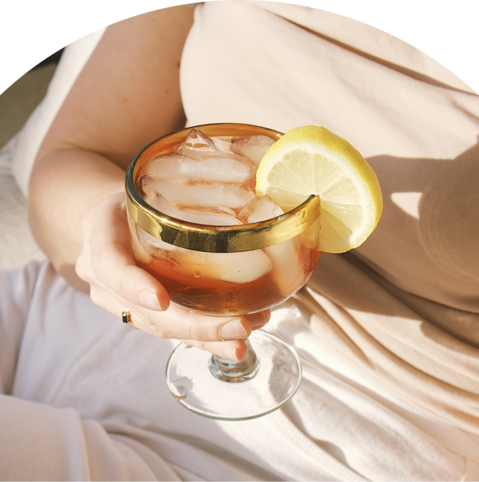 1.5 cups Rose Rosé
1 cup Fruit juice
Ice (10-12 cubes)

Blend in blender and serve immediately. Serves 3-4.
3oz Rose Rosé
2oz Sparkling Water
Serve on the rocks in a collins glass
2oz Rose Rosé
2oz Prosecco
1oz Soda water
Splash fresh lime juice

Combine ingredients over ice in a large wine glass. Garnish with a lime wheel.
1 bottle Rose Rosé
1/2 cup Prosecco
1/2 cup lemon juice
1 cup orange juice
Sliced citrus or berries

Combine in a large pitcher or bowl. Chill to enjoy, and pour over ice. Serves 8-10 people.
A flavorful spirit that's lighter in alcohol (less boozy than whiskey, stronger than wine), so you can sip all evening.
We make Haus with ingredients from farms, not factories, don't add artificial stuff, and tell you what's inside.
Our team makes Haus in Sonoma County using fruits, herbs, and botanicals from trusted purveyors around the world.
"I like to drink Rose Rosé at a picnic or over a home cooked dinner with friends.
I like to add a splash of flavored seltzer, it tastes like a sultry summer night with jazz playing in the air."
Rose Rosé: Amount Per Ounce
Calories
36
Fat
0
Protein
.23 g
Sugars
1.4 g
Carbohydrates
1.69 g
Sodium
.29 mg
Raspberry
Sweet and tart, these Oregon red raspberries are picked at their peak for that bright, mouthwatering, fruity flavor.
Strawberry
There's nothing like the taste of a perfectly ripe strawberry. Ours are grown in the mountains of Oregon and bring a candy-like flavor and aroma to every sip.
Dried Cherry
The deep cherry flavor comes from a mix of sweet and sour cherries, hand picked from heirloom Michigan cherry trees.
Dried Wild Rose
Dried rose petals add a soft aromatic and floral flavor.
Vanilla
Subtly sweet and smooth, we use Tahitian Vanilla to balance out the bright berries and give Rose Rosé a sophisticated finish.
Dried Makrut Lime Leaf
Bright and tropical, these California-grown lime leaves are picked and dried by hand to maintain the rich aromatics and citrusy flavor.
Dried Lychee Fruit
Sourced from the deep in the mountains of the Fujian Province in China, our lychee fruit is picked at peak ripeness to ensure the sweetest flavor.
Pure Organic Cane Sugar
Unlike those European liqueurs, we don't use too much — and that's how we like it. With more impurities than refined sugar for a more natural taste, and a slight molasses aroma.
Chardonnay Grapes
The foundation of every bottle. We started with grapes from the Grist Vineyard in Sonoma County, and now we source from other farmers we trust. This isn't like your mom's chardonnay — it's unoaked for a clean, fruity palate.
Grape Brandy
Grape brandy, distilled in Sonoma County, extracts all the herbs and botanicals you taste.