This page can only be viewed on a mobile device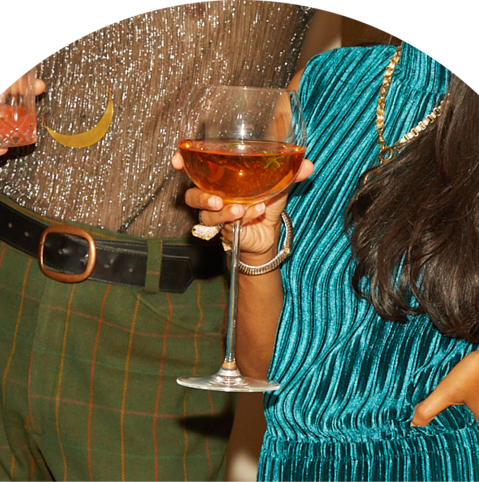 3oz Pomegranate Rosemary 2oz Sparkling water Sprig Rosemary
Pour over ice and garnish with a sprig of fresh rosemary.
Glass Champagne
Splash Pomegranate Rosemary

Pour champagne (or prosecco) into a flute and top with a splash of Pomegrante Rosemary.
2oz Pomegranate Rosemary
2oz Black tea (served hot)
Slice Lemon
Squeeze honey (optional)

Combine in a teacup, stir to combine. Garnish with a rosemary sprig, if you wish.
3oz Pomegranate Rosemary
2oz Tonic
Splash Amaro

Mix ingredients over ice in a rocks glass.
A curated playlist to match the Pomegranate Rosemary vibe.
A flavorful spirit that's lighter in alcohol (less boozy than whiskey, stronger than wine), so you can sip all evening.
We make Haus with ingredients from farms, not factories, don't add artificial stuff, and tell you what's inside.
Our team makes Haus in Sonoma County using fruits, herbs, and botanicals from trusted purveyors around the world.
Founder of Kola Goodies in San Francisco
"I love it with tonic and topped with a quill of Ceylon cinnamon for the festive vibe!
When I have friends over, we make a fun cocktail and just talk about whatever. It's all about creating that environment where it doesn't have to be super fussy to have a good time.
{% assign product = all_products[page.handle] %} {% if product.metafields.nutrition_modal.nutrition_body != blank %} {% assign nutrition_body = product.metafields.nutrition_modal.nutrition_body %} {% else %} {% assign nutrition_body = false %} {% endif %} {% if product.metafields.nutrition_modal.ingredients_body != blank %} {% assign ingredients_body = product.metafields.nutrition_modal.ingredients_body %} {% else %} {% assign ingredients_body = false %} {% endif %}
{% render 'text-hero' with title: "Nutritional Facts", copy: nutrition_body, no_border: true %}

{% for table in product.metafields.nutrition.title %}
{{ product.metafields.nutrition.title[forloop.index0] }}: Amount Per Ounce
{% if product.metafields.nutrition.calories[forloop.index0] != blank %}
Calories
{{ product.metafields.nutrition.calories[forloop.index0] }}
{% endif %} {% if product.metafields.nutrition.fat[forloop.index0] != blank %}
Fat
{{ product.metafields.nutrition.fat[forloop.index0] }}
{% endif %} {% if product.metafields.nutrition.protein[forloop.index0] != blank %}
Protein
{{ product.metafields.nutrition.protein[forloop.index0] }}
{% endif %} {% if product.metafields.nutrition.sugars[forloop.index0] != blank %}
Sugars
{{ product.metafields.nutrition.sugars[forloop.index0] }}
{% endif %} {% if product.metafields.nutrition.carbohydrates[forloop.index0] != blank %}
Carbohydrates
{{ product.metafields.nutrition.carbohydrates[forloop.index0] }}
{% endif %} {% if product.metafields.nutrition.sodium[forloop.index0] != blank %}
Sodium
{{ product.metafields.nutrition.sodium[forloop.index0] }}
{% endif %}
{% endfor %}
{% render 'text-hero' with title: "Ingredients", copy: ingredients_body, no_border: true %}

{% for article_posts in product.metafields.Ingredients.ingredients %}

{% if product.metafields.Ingredients.title[forloop.index0] %}
{{ product.metafields.Ingredients.title[forloop.index0] }}
{% endif %} {% assign ingredient_articles = article_posts | split: "|" %}
{% for ingredient in ingredient_articles %}
{% assign article = ingredient | remove: '["' | remove: '"]' %} {% render 'ingredient-block' with title: articles[article].title, copy: articles[article].content %}
{% endfor %}
{% endfor %}