This page can only be viewed on a mobile device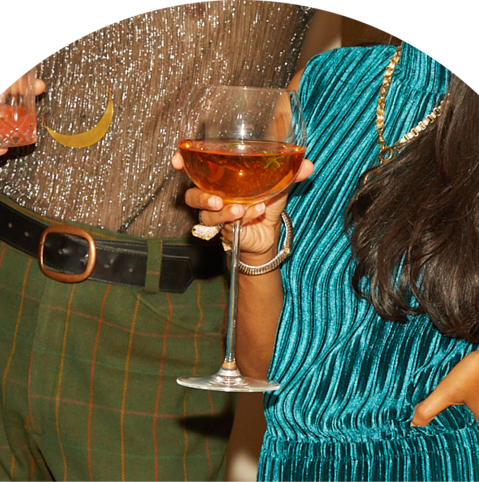 3oz Pomegranate Rosemary 2oz Sparkling water Sprig Rosemary
Pour over ice and garnish with a sprig of fresh rosemary.
Glass Champagne
Splash Pomegranate Rosemary

Pour champagne (or prosecco) into a flute and top with a splash of Pomegrante Rosemary.
2oz Pomegranate Rosemary
2oz Black tea (served hot)
Slice Lemon
Squeeze honey (optional)

Combine in a teacup, stir to combine. Garnish with a rosemary sprig, if you wish.
3oz Pomegranate Rosemary
2oz Tonic
Splash Amaro

Mix ingredients over ice in a rocks glass.
A flavorful spirit that's lighter in alcohol (less boozy than whiskey, stronger than wine), so you can sip all evening.
We make Haus with ingredients from farms, not factories, don't add artificial stuff, and tell you what's inside.
Our team makes Haus in Sonoma County using fruits, herbs, and botanicals from trusted purveyors around the world.
Founder of Kola Goodies in San Francisco
"I love it with tonic and topped with a quill of Ceylon cinnamon for the festive vibe!
When I have friends over, we make a fun cocktail and just talk about whatever. It's all about creating that environment where it doesn't have to be super fussy to have a good time.
Pomegranate Rosemary: Amount Per Ounce
Calories
37.9
Fat
0g
Protein
<1g
Sugars
1.77g
Carbohydrates
2.29g
Sodium
0.89mg
Pomegranate Molasses
Rich, tart, and tangy, this pure pomegranate molasses from Lebanon is made by reducing fresh pomegranate juice with a touch of sugar.
Rosemary
We use organic rosemary grown right here in California. Woody and herbal, it's the perfect compliment to the punch of the pomegranate.
Raspberry
Sweet and tart, these Oregon red raspberries are picked at their peak for that bright, mouthwatering, fruity flavor.
Juniper
Our wild juniper berries are foraged by hand high in the Swiss Alps. They bring a fresh, woodsy aroma and a touch of sweetness to each sip.
Orange Peel
We add orange peel for both its flavor and its aromatic qualities. It has the perfect balance of sweet and bitter. Ours come from a 40-year old organic orchard in Florida.
Berry Meritage Tea
This tea is a fruit-forward blend of hibiscus, blackcurrant, redcurrant, and grape raisin. Made from the finest mountain berries, it's the perfect balance of sweet, tart, and smooth.
Aronia berries
These antioxidant-rich berries are native to the Great Lakes region and are grown from wild seeds in Illinois. Part of the rose family, they are tart with earthy undertones, bringing balance to every sip.
Bay Leaf
Organic bay leaves get that nice, minty, herbal aroma going. Ours are wild foraged in the mountains of Oregon.
Rooibos Tea
Grown in South Africa, we use antioxidant-rich organic rooibos to lend an earthy, herbal complexity that keeps this flavor smooth and balanced.
Pure Organic Cane Sugar
Unlike those European liqueurs, we don't use too much — and that's how we like it. With more impurities than refined sugar for a more natural taste, and a slight molasses aroma.
Grape Brandy
Grape brandy, distilled in Sonoma County, extracts all the herbs and botanicals you taste.
Chardonnay Grapes
The foundation of every bottle. We started with grapes from the Grist Vineyard in Sonoma County, and now we source from other farmers we trust. This isn't like your mom's chardonnay — it's unoaked for a clean, fruity palate.