This page can only be viewed on a mobile device.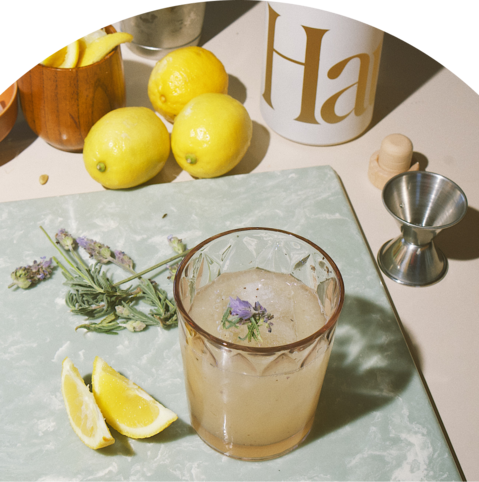 2oz Lemon Lavender
Twist Lemon peel
Serve on the rocks
3oz Lemon Lavender
2oz Soda water
Twist Lemon peel

Serve on the rocks in a collins glass
2oz Lemon Lavender
2oz Prosecco
1oz Sparkling water
Squeeze Lemon juice

Serve on the rocks in a wine glass. Garnish with a lemon wheel.
2oz Lemon Lavender
.75oz Gin
.5oz Fresh lime juice

Shake Haus, gin, and lime juice in a shaker with ice. Strain into ice-filled collins, top with soda water. Recipe by Rebekah Peppler.
A flavorful spirit that's lighter in alcohol (less boozy than whiskey, stronger than wine), so you can sip all evening.
We make Haus with ingredients from farms, not factories, don't add artificial stuff, and tell you what's inside.
Our team makes Haus in Sonoma County using fruits, herbs, and botanicals from trusted purveyors around the world.
Founder of Noihsaf Bazaar
"Lemon Lavender tastes like warm sun rays.
I like to drink it with a splash of lemonade or fresh squeezed lemon, or a splash of ice cold sake and ice. It's light on the palate with pronounced herbal notes. The lavender is very subtle."
Lemon Lavender: Amount Per Ounce
Calories
39
Fat
0g
Protein
<1g
Sugars
1.74g
Carbohydrates
2.1g
Sodium
0.65mg
Lemon
We peel locally grown lemons by hand and use the rinds for their essential oils to add a bright, citrus flavor that gives the tastebuds a wake up call without tipping the balance of our flavors.
Lavender
Lightly floral and earthy, our lavender comes from local Sonoma County farms and adds a sweet aroma and a hint of minty spice.
Chamomile
Dried chamomile flowers are used for their subtle, floral sweetness. 
Coriander Seed
Picked at its peak from India's Andhra Pradesh mountains, fragrant coriander seed is used to add depth and complexity.
Bay Leaf
Organic bay leaves get that nice, minty, herbal aroma going. Ours are wild foraged in the mountains of Oregon.
Chrysanthemum
Sweet and aromatic, chrysanthemum brings forward a honey-like herbal sweetness.
Orange Peel
We add orange peel for both its flavor and its aromatic qualities. It has the perfect balance of sweet and bitter. Ours come from a 40-year old organic orchard in Florida.
Magnolia Blossom Oolong
High mountain Oolong from the mountains of Fujian, China is scented with fresh magnolia flowers to create a beautiful floral taste.
Dried Makrut Lime Leaf
Bright and tropical, these California-grown lime leaves are picked and dried by hand to maintain the rich aromatics and citrusy flavor.
Lemongrass
We add light and tangy lemongrass, biodynamically farmed in Cairo, Egypt, for its depth and brightness.
Pure Organic Cane Sugar
Unlike those European liqueurs, we don't use too much — and that's how we like it. With more impurities than refined sugar for a more natural taste, and a slight molasses aroma.
Chardonnay Grapes
The foundation of every bottle. We started with grapes from the Grist Vineyard in Sonoma County, and now we source from other farmers we trust. This isn't like your mom's chardonnay — it's unoaked for a clean, fruity palate.
Grape Brandy
Grape brandy, distilled in Sonoma County, extracts all the herbs and botanicals you taste.