This page can only be viewed on a mobile device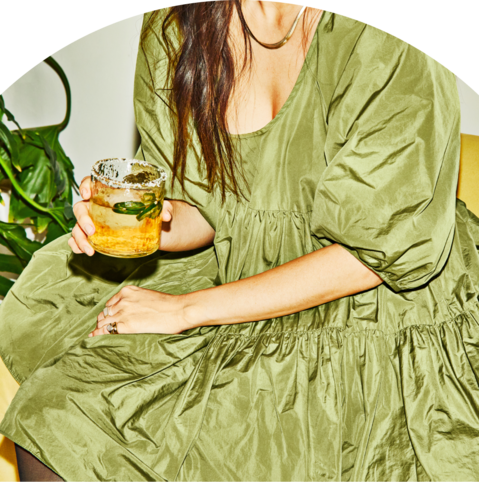 2oz Grapefruit Jalapeño
Serve on the rocks
3oz Grapefruit Jalapeño
2oz Sparkling Water

Serve on the rocks with a squeeze of fresh grapefruit
2oz Grapefruit Jalapeño
2oz Fresh grapefruit juice
1oz Tequila or mezcal
Squeeze Fresh lime

Combine ingredients over a few large ice cubes in your glass of choice. Stir and garnish with grapefruit wedge.
3oz Grapefruit Jalapeño
Squeeze Fresh lime juice
Splash Tequila
Sliced Jalapeño

Add all ingredients to a mixing glass or shaker. Gently shake/stir with a small amount of ice and strain into a glass. Garnish with lime wedge and optional salt rim.
A flavorful spirit that's lighter in alcohol (less boozy than whiskey, stronger than wine), so you can sip all evening.
We make Haus with ingredients from farms, not factories, don't add artificial stuff, and tell you what's inside.
Our team makes Haus in Sonoma County using fruits, herbs, and botanicals from trusted purveyors around the world.
"Grapefruit Jalapeño tastes like a bright, adventurous summer day.
It's a complex blend of flavors with both bitterness and spiciness to round it out. I keep my drinks simple so its natural flavor shines."
Grapefruit Jalapeño: Amount Per Ounce
Calories
27.5
Fat
0g
Protein
<1g
Sugars
1.4g
Carbohydrates
1.96g
Sodium
0.85mg
Grapefruit
Bright and refreshing, there's a lot to love about this citrus fruit. We use fresh grapefruit peels, sourced locally whenever possible, to bring a sweet-meets-tart acidity to every sip.
Dried Makrut Lime Leaf
Bright and tropical, these California-grown lime leaves are picked and dried by hand to maintain the rich aromatics and citrusy flavor.
Jalapeño
Fresh jalapeño adds a subtle kick to every pour. (Don't worry, it's not that kind of hot.) We use jalapeños sourced nearby in California.
Pink Peppercorn
Part of the cashew family, Brazilian pink peppercorn adds a slightly sweet and floral layer to the flavor.
Dried Morita Chili Pepper
Morita chili peppers are made from smoked, red-ripe jalapeño peppers. It's less about the heat and more about the rich, herbaceous flavor they add.
Lemon Peel
We peel locally grown lemons by hand and use the rinds for their essential oils to add a bright, citrus flavor that gives the taste buds a wake up call without tipping the balance of our flavors.
Dried Lychee Fruit
Sourced from the deep in the mountains of the Fujian Province in China, our lychee fruit is picked at peak ripeness to ensure the sweetest flavor.
Dried Banana
Nothing like your store-bought bananas, our wild Thai dried banana comes from an ancient cultivar and brings a concentrated caramel-like layer to the flavor.

Organic Blue Agave Syrup
This organic, natural sweetener is derived from the core of the Blue Agave plant, the same plant that is used to make tequila.
Pure Organic Cane Sugar
Unlike those European liqueurs, we don't use too much — and that's how we like it. With more impurities than refined sugar for a more natural taste, and a slight molasses aroma.
Grape Brandy
Grape brandy, distilled in Sonoma County, extracts all the herbs and botanicals you taste.
Chardonnay Grapes
The foundation of every bottle. We started with grapes from the Grist Vineyard in Sonoma County, and now we source from other farmers we trust. This isn't like your mom's chardonnay — it's unoaked for a clean, fruity palate.