This page can only be viewed on a mobile device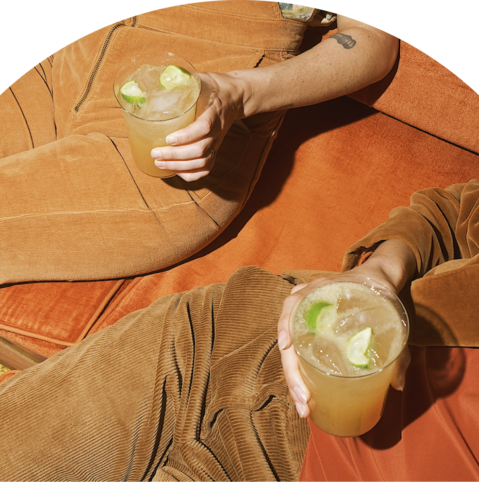 3oz Ginger Yuzu
2oz Tonic water

Serve on the rocks in a collins glass
3oz Ginger Yuzu
2oz Ginger Beer
Serve on the rocks in a copper mug or cocktail glass
3oz Ginger Yuzu
Splash lemon juice
Splash Smokey scotch
1tsp Honey

Stir over ice in a rocks glass. Garnish with a piece of candied ginger.
2oz Ginger Yuzu
2oz Dry sparkling wine
1oz Ginger beer
Splash Fresh lime juice
Combine ingredients in a large wine glass over ice. Garnish with a lime twist.
A flavorful spirit that's lighter in alcohol (less boozy than whiskey, stronger than wine), so you can sip all evening.
We make Haus with ingredients from farms, not factories, don't add artificial stuff, and tell you what's inside.
Our team makes Haus in Sonoma County using fruits, herbs, and botanicals from trusted purveyors around the world.
Food & beverage multi-hyphenate, lover of people, and proud Black woman
"I love Ginger Yuzu for its sophistication; it's a flavor combination you do not often see on a shelf
I immediately get notes of lemongrass in the front, followed by quince—one of my favorite flavors—and the subtle "good burn" of ginger on the finish"
Ginger Yuzu: Amount Per Ounce
Calories
37
Fat
0g
Protein
0.04g
Sugars
1.24g
Carbohydrates
1.79g
Sodium
1.6mg
Ginger
Spicy and earthy, this combination of fresh and dried ginger brings a bold finish to every sip.

Yuzu
A citrus staple in Japan, yuzu adds a zesty aroma and deep golden color. We use fresh California yuzu when it's in season, and otherwise source hand zested yuzu peel from Japan.

Lemongrass
We add light and tangy lemongrass, biodynamically farmed in Cairo, Egypt, for its depth and brightness.
Orange Peel
We add orange peel for both its flavor and its aromatic qualities. It has the perfect balance of sweet and bitter. Ours come from a 40-year old organic orchard in Florida.
Dried Cherries
Dried cherries add acidity, tartness, and a little bit of color.
Rooibos Tea
Grown in South Africa, we use antioxidant-rich organic rooibos to lend an earthy, herbal complexity that keeps this flavor smooth and balanced.
Ginger Tea
Aromatic and spicy, this ginger is grown in the mountains of Guatemala and carefully sun dried to preserve the natural terroir. It adds complexity and a subtle bite.
Pure Organic Cane Sugar
Unlike those European liqueurs, we don't use too much — and that's how we like it. With more impurities than refined sugar for a more natural taste, and a slight molasses aroma.
Chardonnay Grapes
The foundation of every bottle. We started with grapes from the Grist Vineyard in Sonoma County, and now we source from other farmers we trust. This isn't like your mom's chardonnay — it's unoaked for a clean, fruity palate.
Grape Brandy
Grape brandy, distilled in Sonoma County, extracts all the herbs and botanicals you taste.