This page can only be viewed on a mobile device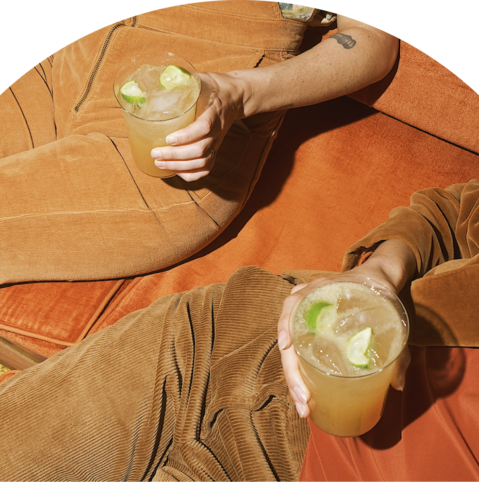 3oz Ginger Yuzu
2oz Tonic water

Serve on the rocks in a collins glass
3oz Ginger Yuzu
2oz Ginger Beer
Serve on the rocks in a copper mug or cocktail glass
3oz Ginger Yuzu
Splash lemon juice
Splash Smokey scotch
1tsp Honey

Stir over ice in a rocks glass. Garnish with a piece of candied ginger.
2oz Ginger Yuzu
2oz Dry sparkling wine
1oz Ginger beer
Splash Fresh lime juice
Combine ingredients in a large wine glass over ice. Garnish with a lime twist.
A curated playlist to match the Ginger Yuzu vibe.
A flavorful spirit that's lighter in alcohol (less boozy than whiskey, stronger than wine), so you can sip all evening.
We make Haus with ingredients from farms, not factories, don't add artificial stuff, and tell you what's inside.
Our team makes Haus in Sonoma County using fruits, herbs, and botanicals from trusted purveyors around the world.
Food & beverage multi-hyphenate, lover of people, and proud Black woman
"I love Ginger Yuzu for its sophistication; it's a flavor combination you do not often see on a shelf
I immediately get notes of lemongrass in the front, followed by quince—one of my favorite flavors—and the subtle "good burn" of ginger on the finish"
{% assign product = all_products[page.handle] %} {% if product.metafields.nutrition_modal.nutrition_body != blank %} {% assign nutrition_body = product.metafields.nutrition_modal.nutrition_body %} {% else %} {% assign nutrition_body = false %} {% endif %} {% if product.metafields.nutrition_modal.ingredients_body != blank %} {% assign ingredients_body = product.metafields.nutrition_modal.ingredients_body %} {% else %} {% assign ingredients_body = false %} {% endif %}
{% render 'text-hero' with title: "Nutritional Facts", copy: nutrition_body, no_border: true %}

{% for table in product.metafields.nutrition.title %}
{{ product.metafields.nutrition.title[forloop.index0] }}: Amount Per Ounce
{% if product.metafields.nutrition.calories[forloop.index0] != blank %}
Calories
{{ product.metafields.nutrition.calories[forloop.index0] }}
{% endif %} {% if product.metafields.nutrition.fat[forloop.index0] != blank %}
Fat
{{ product.metafields.nutrition.fat[forloop.index0] }}
{% endif %} {% if product.metafields.nutrition.protein[forloop.index0] != blank %}
Protein
{{ product.metafields.nutrition.protein[forloop.index0] }}
{% endif %} {% if product.metafields.nutrition.sugars[forloop.index0] != blank %}
Sugars
{{ product.metafields.nutrition.sugars[forloop.index0] }}
{% endif %} {% if product.metafields.nutrition.carbohydrates[forloop.index0] != blank %}
Carbohydrates
{{ product.metafields.nutrition.carbohydrates[forloop.index0] }}
{% endif %} {% if product.metafields.nutrition.sodium[forloop.index0] != blank %}
Sodium
{{ product.metafields.nutrition.sodium[forloop.index0] }}
{% endif %}
{% endfor %}
{% render 'text-hero' with title: "Ingredients", copy: ingredients_body, no_border: true %}

{% for article_posts in product.metafields.Ingredients.ingredients %}

{% if product.metafields.Ingredients.title[forloop.index0] %}
{{ product.metafields.Ingredients.title[forloop.index0] }}
{% endif %} {% assign ingredient_articles = article_posts | split: "|" %}
{% for ingredient in ingredient_articles %}
{% assign article = ingredient | remove: '["' | remove: '"]' %} {% render 'ingredient-block' with title: articles[article].title, copy: articles[article].content %}
{% endfor %}
{% endfor %}