This page can only be viewed on a mobile device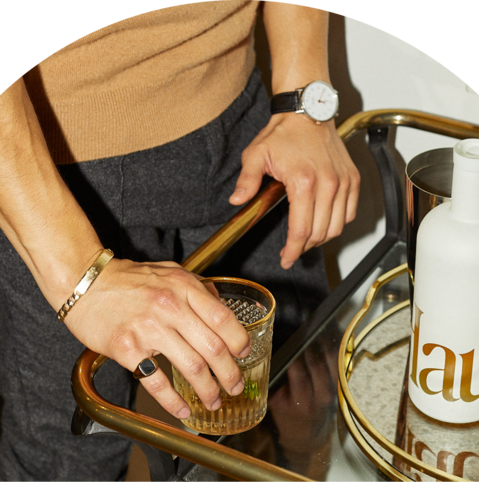 3oz Bitter Clove
Serve on ice
3oz Bitter Clove
Splash Bourbon or whiskey
1 Orange peel

Serve on the rocks in a rocks glass.
3oz Bitter Clove
2oz Ginger Ale or Ginger Beer

Serve on the rocks in a copper mug or glass of your choice
2oz Bitter Clove
2oz Dry sparkling wine
1oz Tonic Water
Splash Amaro (optional)
Pour over ice in a large wine glass. Garnish with an orange peel.
A flavorful spirit that's lighter in alcohol (less boozy than whiskey, stronger than wine), so you can sip all evening.
We make Haus with ingredients from farms, not factories, don't add artificial stuff, and tell you what's inside.
Our founders are a 3rd generation winemaking family. They make Haus in Sonoma County and ship it straight to your door.
"Bitter Clove gives just the right amount of warmth with its little kick of cinnamon
I like to drink Bitter Clove with friends over some good conversation, but I've also been known to have a solo glass while working late nights at home."
Bitter Clove: Amount Per Ounce
Calories
36.6
Fat
0g
Protein
<1g
Sugars
1.38g
Carbohydrates
1.9g
Sodium
.7mg
Clove
Hand foraged in Madagascar, we use whole clove buds that are bursting with spice and sweetness.
Ginger
Spicy and earthy, this combination of fresh and dried ginger brings a bold finish to every sip.

Saigon Cinnamon
More intense than your typical cinnamon bark, this sweet spice is warm and peppery with just a bit of kick. Ours comes from the Mekong Delta in Vietnam.

Gentian Root
Sourced from the peaks of the Swiss Alps, this root is a classic ingredient in aromatic bitters and liqueurs, known for having a strong, bitter flavor.
Cinchona Bark
Harvested deep in the rainforest of Ecuador, this botanical is traditionally used to make tonic water. We love it for the subtle bitter flavor it adds to every sip.
Hibiscus
Also known as rosemarrow, hibiscus is punchy, floral, and a little tart (and high in Vitamin C). Its deep crimson hue provides a little color.
Angelica Root
Harvested in Belgium and Saxony using centuries-old practices, angelica root is used as an aromatic bitter herb.
Orange Peel
We add orange peel for both its flavor and its aromatic qualities. It has the perfect balance of sweet and bitter. Ours come from a 40-year old organic orchard in Florida.
Cardamom Seed
Kerala, India is home to some of the greatest cardamon in the world, including our own. With hints of citrus, pine, and mint, these zesty seeds add to the flavor's complexity.
Bay Leaf
Organic bay leaves get that nice, minty, herbal aroma going. Ours are wild foraged in the mountains of Oregon.
Jasmine Pearl Tea
Hand picked from old growth tea trees in Anhui, China, our Emperor's Jasmine Pearl Tea is truly unique. Dried green tea pearls are scented with jasmine blooms a total of 11 times to ensure that every pearl has absorbed the delicate jasmine scent. This tea leaves behind a smooth, honey-like taste.
Dried Banana
Nothing like your store-bought bananas, our wild Thai dried banana comes from an ancient cultivar and brings a concentrated caramel-like layer to the flavor.

Raw Cane Sugar
Unlike those European liqueurs, we don't use too much — and that's how we like it. With more impurities than refined sugar for a more natural taste, and a slight molasses aroma.
Chardonnay Grapes
The foundation of every bottle. We started with grapes from the Grist Vineyard in Sonoma County, and now we source from other farmers we trust. This isn't like your mom's chardonnay — it's unoaked for a clean, fruity palate.
Grape Brandy
Grape brandy, distilled in Sonoma County, extracts all the herbs and botanicals you taste.